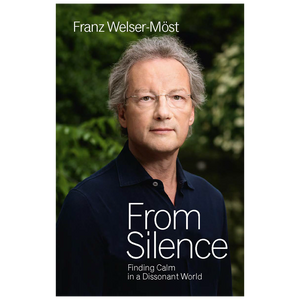 From Silence: Finding Calm in a Dissonant World
By Franz Welser-Möst
About the Book
A powerful and thought provoking book from one of the world's most successful orchestral conductors, whose life story, talent, and dedication to music is an inspiration to read.
A tragic car accident when Welser-Möst was a student shaped both his career and approach to music in the most profound and unexpected way.
An insider's view of the complex relationships between an opera house, its orchestra, the conductor and singers, and the creative struggle by all these parts to achieve perfection in every performance.
Welser-Möst's book was published in Austria in July 2020 and rapidly became a No. 1 bestseller. It remains a bestseller in the German language in 2021. This edition will satisfy all lovers of opera and classical music who are English language readers.
About the Author
For 19 years, Franz Welser-Möst has shaped an unmistakable sound as Music Director of The Cleveland Orchestra in Ohio, with their acclaimed partnership extended to 2027, making him the longest-serving musical leader in the ensemble's history. The New York Times has declared Cleveland under Welser-Möst's direction to be "America's most brilliant orchestra," praising its virtuosity and elegance of sound.
As a guest conductor, Franz Welser-Möst enjoys a close artistic partnership with the Vienna Philharmonic. He has twice appeared on the podium for their celebrated New Year's Concert. Franz Welser-Möst is also a regular guest at the Salzburg Festival where he has set new standards in the interpretation of the operas of Richard Strauss. In 2021 he will return to conduct Strauss's Elektra.
He is an Honorary Member of the Gesellschaft der Musikfreunde in Vienna, winner of the Vienna Philharmonic's Honorary Ring, and has been awarded the Kilenyi Medal of the Bruckner Society of America as well as the Kennedy Center Gold Medal in the Arts.

"It is a book with the potential to become a canon of values."
-Oberösterreichische Nachrichten
Binding: Hardback
ISBN: 978-1908337-603
Format: 210 x 135mm, 184pp