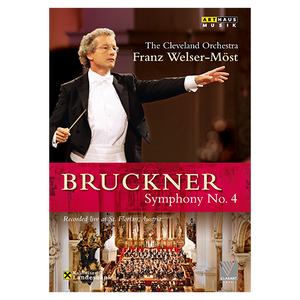 The Cleveland Orchestra
Franz Welser-Möst, conductor
Recorded live at Stiftsbasilika St. Florian, Austria, September 2012
Bruckner Symphony No. 4 in E-flat major
When it comes to shaping a musical event for the ears and the eyes, the monumental majesty of Anton Bruckner's symphonies and the exhilarating vibrancy of St Florian's monastery are a perfect match – especially when they are captured on film so thrillingly by such an eminent director as Brian large.
Welser-Möst, the Music Director of The Cleveland Orchestra, is an acknowledged Bruckner specialist who has developed a passion for the composer's Fourth Symphony – called the "Romantic" by its creator – in its infrequently played first edition (1888/89).
The Cleveland Orchestra, called the most European of America's prestige formations, has been setting new standards in Bruckner interpretation for several years now through the "expertise" of Franz Welser-Möst, who "elicits a grandiose interpretation from his technical unsurpassable ensemble" (Austria's leading daily, Die Presse).