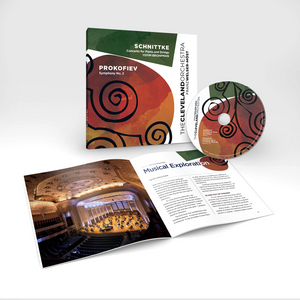 Schnittke & Prokofiev
This third audio release for The Cleveland Orchestra's own label will again showcase the pairing of an older and newer work led by Music Director Franz Welser-Möst. This album, features Alfred Schnittke's Concerto for Piano and Strings (1979) along with Prokofiev's Second Symphony (1925).
The Schnittke was recorded in October 2020 at Cleveland's Severance Hall during the Covid-19 pandemic. It features pianist Yefim Bronfman with the Orchestra's strings, and was part of The Cleveland Orchestra's new In Focus digital broadcast series.
The Prokofiev was recorded in January 2020, on tour in Miami in Knight Concert Hall at the Adrienne Arsht Center for the Performing Arts of Miami-Dade County, and features a pre-pandemic full orchestra ensemble in this work inspired by the early 20th century's fascination with mechanics and industry.
The album disc release includes a 36-page booklet featuring an essay by Franz Welser-Möst about musical discovery along with program notes about each piece and an overview by André Gremillet, the Orchestra's President & CEO, about using lessons learned during the pandemic to continue charting an ambitious course forward.
Featuring:
The Cleveland Orchestra
Franz Welser-Möst, conductor
Alfred Schnittke (1934-1998)
Concerto for Piano and Strings (in one movement)
Yefim Bronfman, piano
Moderato — Allegro — Temp di valse — Moderato — Tempo 1
Sergei Prokofiev (1891-1953)
Symphony No. 2 in D minor, Opus 40
1. Allegro ben articolato
– 10. 2. Theme and Variations: Andante — Variations 1-6 — Theme
Hybrid SACD Audio Disc. High resolution stereo sound.