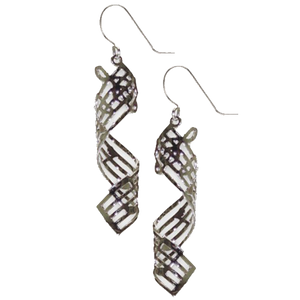 Symphony No. 5 in C minor, Op. 67, was written by Ludwig van Beethoven in 1804 –1808.  It comprises four movements: an opening sonata, an andante, and a fast scherzo which leads attacca to the finale.  These earrings depict the first notes in the score.
Finish: Solid brass, electro-plated with non-tarnishing silver finish, ear wires are hypo-allergenic
Dimensions: Hangs approx. 2"
Designed and produced by David Howell & Company